Passion and curiosity drive pianist Adriana von Franqué. Her joy in creating sonic nuances and her sensitivity for compositional subtleties are expressed in her warm and iridescent playing, which she combines with enthralling moderations during her concerts.
Adriana von Franqué was born in Berlin in 1993. She is a multiple prizewinner of the "Jugend Musiziert" competition and was awarded the Butterfly Communications Piano Prize, the Classical Music Prize of the Rotary Club of Berlin, and 2nd prize at the Elise Meyer Competition in Hamburg.
Her concert activities have taken her to stages in Europe as well as North and South America, where she has played with orchestras like the Neue Philharmonie Berlin and the Orquesta Sinfónica Nacional de Bolivia and where she has worked together with conductors like Alessandro Crudele and Weimar Arancibia, among others. In 2015, she opened an exhibition in Berlin together with the then German President Joachim Gauck.
The inclusion of all segments of society in the world of classical music is one of her primary objectives. She therefore meticulously designs her programs, which she usually moderates herself, and develops new concert formats. In addition to her ongoing collaboration with Billstedt Classics, an interactive concert series for children already documented in the NDR Hamburg Journal in 2017, she also created her own innovative concert project in 2019 as part of the CLAB Festival at Resonanzraum Hamburg.
In March 2024 her debut album FILIGRANE will be released on the GENUIN classics label, a collection of piano works composed in Paris in the late 19th and early 20th century. In the 2023/2024 season, she will perform in La Paz, Paris, Munich and Berlin, among other cities.
She studied with Hubert Rutkowski and Aleksandar Madžar at the Hamburg University of Music and Theatre. She also received valuable artistic impulses from Georg Sava, Grigory Gruzman, Pavel Nersessian, Rena Shereshevskaya, Sergei Ossipenko, Bernd Goetzke, Hinrich Alpers, Katia Veekmans, and Niklas Schmidt (Trio Fontenay).
Adriana von Franqué currently lives in Berlin.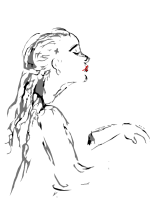 30.03.2023: Adriana von Franqué makes her debut with National Symphony Orchestra of Bolivia playing Mozart Concerto No. 12 in A major KV 414 under the baton of Weimar Arancibia.
29.03.2023: Concerts in Bolivia: Live interview on Bolivia TV with Weimar Arancibia.
11.12.2022: Debut with Neue Philharmonie Berlin playing Mozart Concerto No. 12 in A major KV 414 under the baton of Jürgen Trinkewitz.
01.12.2022: Adriana von Franqué is featured in the advent calendar of the International César Franck Society talking about César Franck's Prélude, Choral et Fugue.
01.12.2022: New YouTube video! César Franck's Prélude, Choral et Fugue is out now on YouTube!
16.11.2022: Review of Adriana von Franqué's piano recital at Kurhaus Bad Homburg on taunus-nachrichten.de .
To get in touch with Adriana feel free to use the contact form below.
Inquiries and bookings you can submit directly to:
contact@adrianavonfranque.com